Featured Photo Archive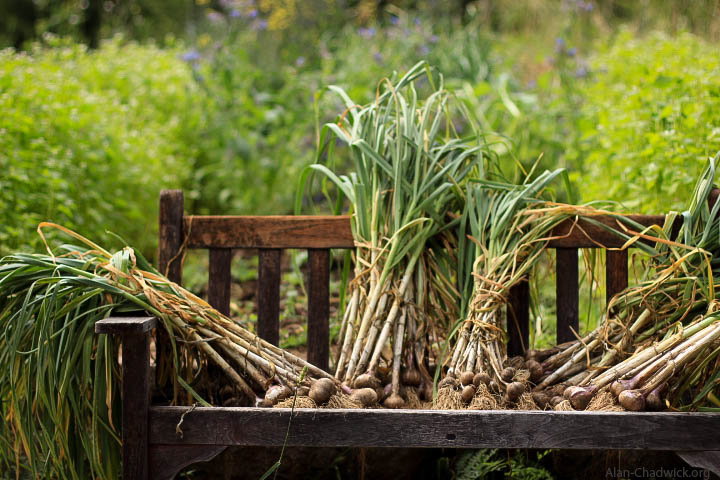 Garlic on a Garden Bench
Photo by Gregory Haynes, 2015
Garlic is easily grown and tremendously healthy. Plant bulblets in the fall for an early summer harvest the following year. Alan Chadwick's lecture on growing the members of the alium family, which includes onions, leaks, chives, shallots, and garlic, can be heard here.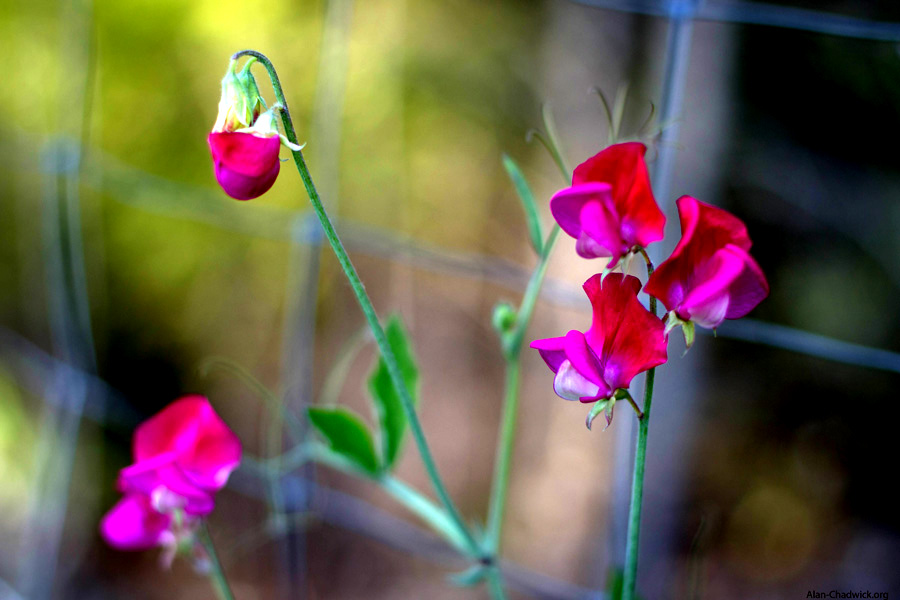 Sweet Peas growing on the garden fence
Photo by Gregory Haynes, 2016
Sweet Peas were one of Alan Chadwick's favorite flowers. The special strain that he bred remains one of the premier sweet peas of the world, and is still sold under his name. His special technique for growing them produced an incredible profusion of fragrant blooms. Fortunately, Tom Cuthbertson has preserved this method in his book, Alan Chadwick's Enchanted Garden.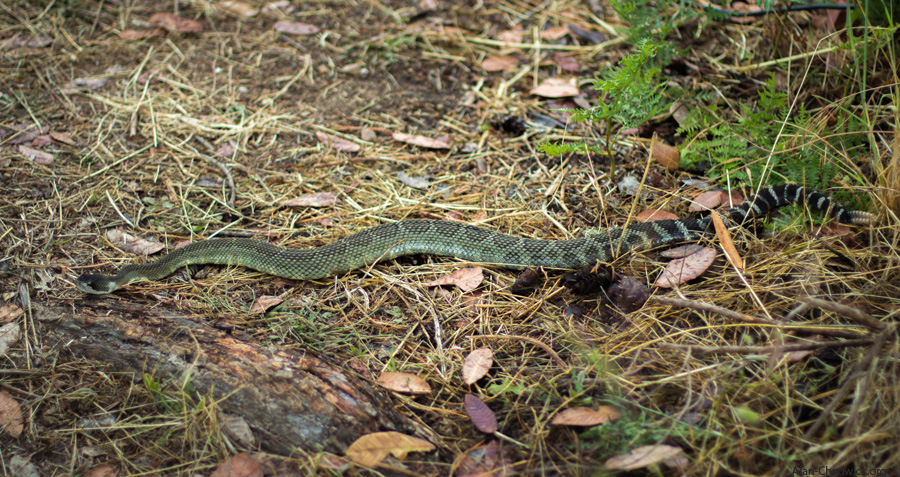 Rattlesnake in the garden, hunting voles under the rosemary.
Photo by Gregory Haynes, 2016
Owls and snakes are nature's way of keeping the rodent population in check. Since rattlesnakes are harmless unless provoked or stepped on, ordinary care should avoid most dangerous situations in the garden. Without them the rodents propagate without limits and will destroy the majority of your crops. Never resort to poisons to curb the mice, rats, and voles. The dead animals will be eaten by owls, which in turn will die. Then the rodents will have no predators to keep them in balance.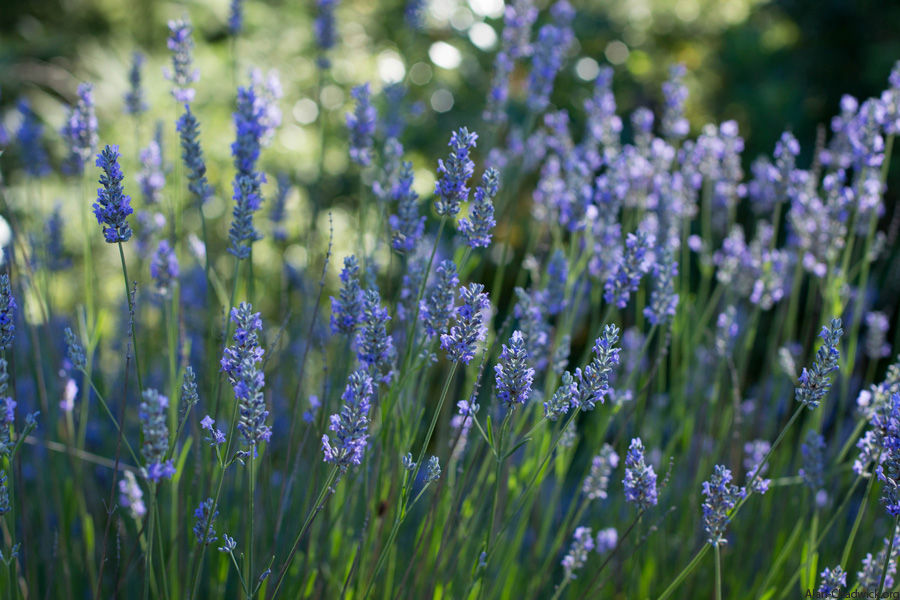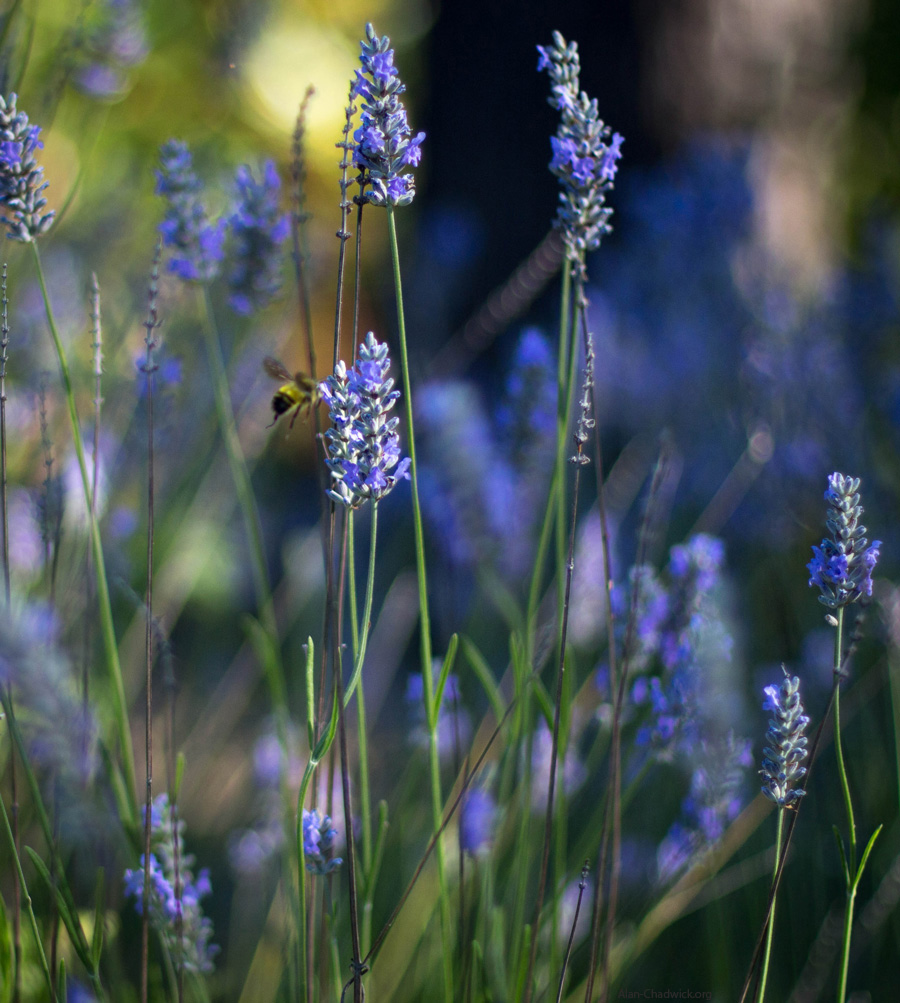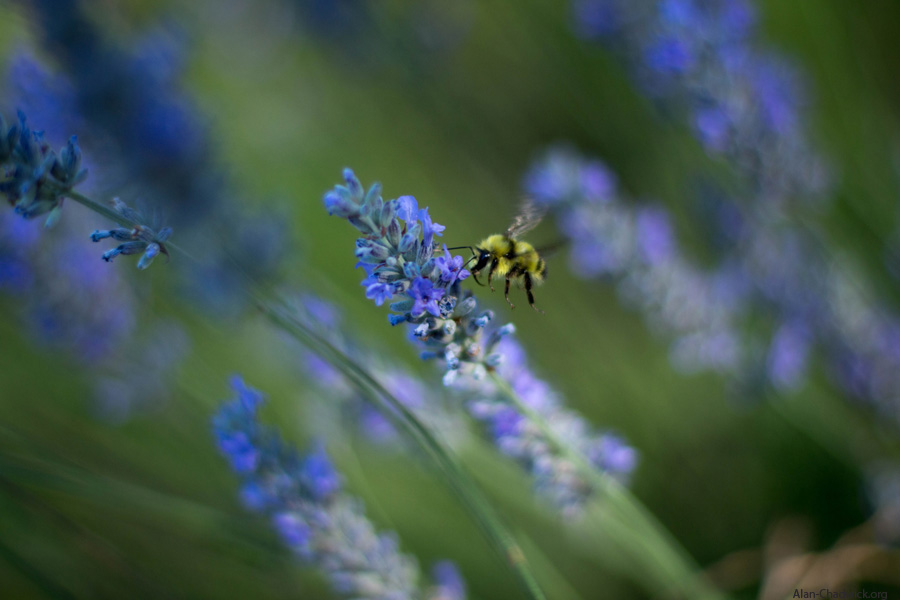 Lavender series 1-3 by Greg Haynes 2016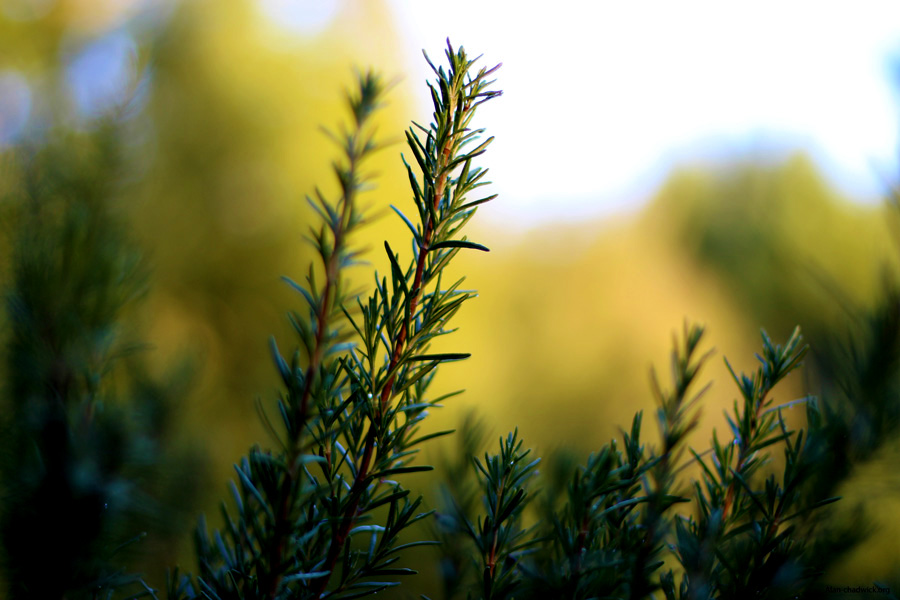 Rosemary
Photo by Greg Haynes, 2016

Borage
Photo by Gregory Haynes, 2015
This borage grew as a volunteer in the garlic bed, pictured here just after an rainstorm. Ordinarily, I do not allow wild plants to grow among the garlic, but regularly make exceptions for borage and nicotania afinis, as did Alan Chadwick. Alan allowed nicotiana to grow everywhere, forbidding anyone to remove it, as its scent is absolutely enchanting at night.
For more on borage and its value in the garden, see here.
Posted January 29, 2016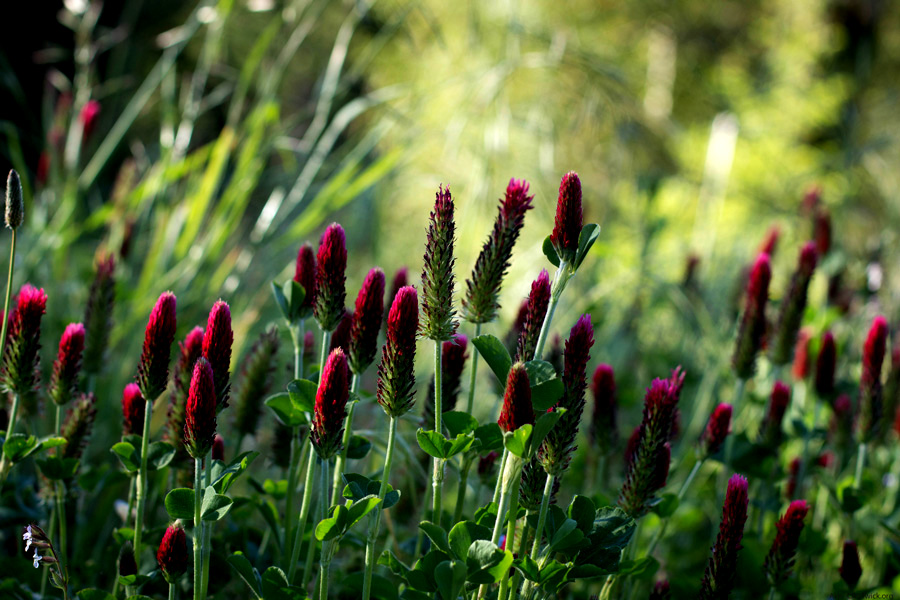 Crimson Clover
Photo by Gregory Haynes, 2015
Years ago, I grew a bit of crimson clover in the garden; now it self-seeds and creates a glorious display every spring. Excellent as a nitorgen-fixing cover crop, it also attracts bees and butterflies galore.
For more on the value of cover crops in the garden, see here.
Posted February 11, 2016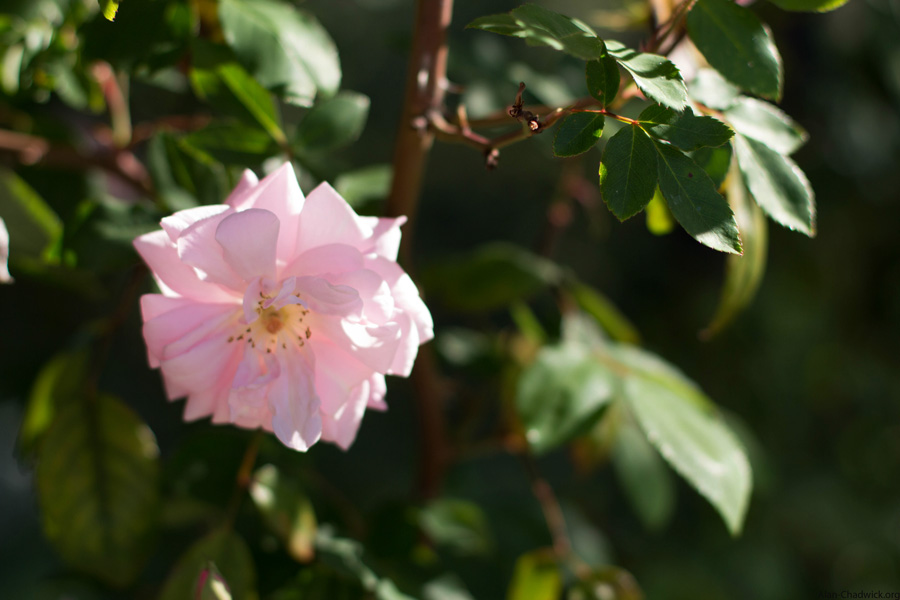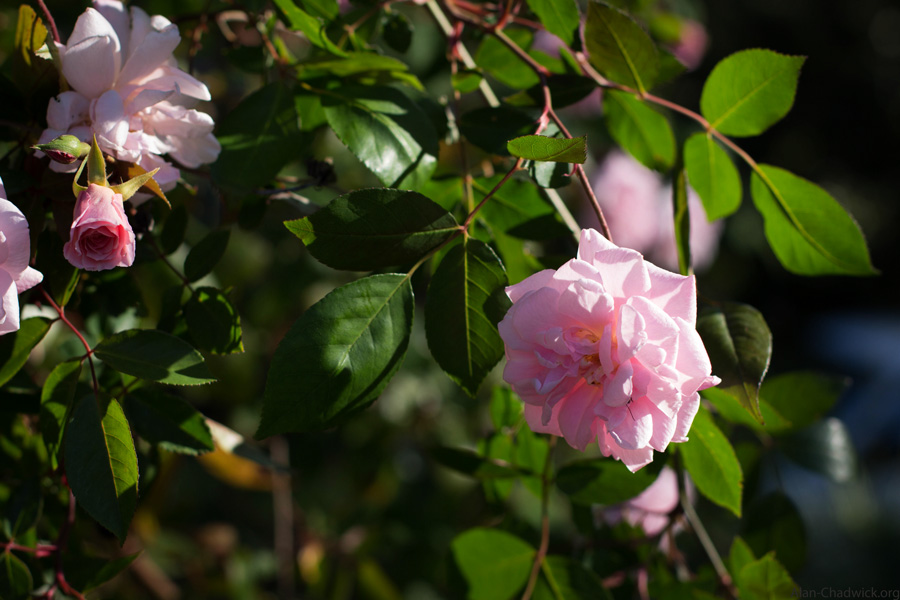 Two photos of the climbing Cecile Brunner rose. It is extremely drought tolerant, but the deer will eat it in the late summer or fall when other forage plants are not available if they can get to it. Grows to about 12 feet high in my garden, with profuse, mildly fragrant blooms in the spring to early summer.
Return to the top of this page