A Tribute to Betty Peck
[ed. note: Aside from her talents as an inspiring school teacher, Betty Peck was instrumental in establishing the Saratoga Community Garden and in organizing the Villa Montalvo lecture series in Saratoga that Alan Chadwick delivered in 1972.]
A Tribute to Betty Peck
by Jay Thorwaldson 
"I did a bit of time travel this month: I visited my third-grade teacher, "Miss Wesson," from Los Gatos Elementary School.
I went to her home in Saratoga, which was filled with memories and reminders of her life and late husband, journalist, attorney and historian Willys Peck, who died last year.
There was something special about Miss Wesson, my hands-down favorite teacher in elementary school.
One special thing was that on pupils' birthdays she would give a token gift. In my case, perhaps in all cases, it was a nickel in a small cardboard box. For some reason that meant a lot more than five cents, and I saved it — it may still be around somewhere.
Now in her mid-90s and moving slowly but with a quick, sharp memory, Miss Wesson, now Betty Peck, and I ventured back nearly seven decades. We talked of her seven years teaching third grade, then of her being recruited to coach and train all lower-elementary teachers throughout San Mateo County for five years, prior to her marriage.
I had never been in contact with her before, except for an odd connection when I was at San Jose State University. I worked for a couple of years delivering milk in Los Gatos and Saratoga for a raw-milk dairy called Claravale Farms.
She and Willys were on the Saratoga route, and I would reach their home about 5 a.m. when they were still asleep. I would quietly pull into a side driveway, enter by a side door, check inside an antique wooden "ice box" refrigerator and replenish their milk, eggs, butter and cottage cheese.
I later got to know Willys when I was working for the erstwhile Palo Alto Times in the 1960s and 1970s. He was a longtime reporter for the San Jose Mercury and the son of a 1920s publisher of the Saratoga Star newspaper, Llewellen Peck. Willys was trained as a lawyer, but his father's footsteps beckoned him, along with his inquiring mind.
Willys and I shared an adventure, of sorts. Our oldest children were enrolled in the historic Los Gatos Parent Co-op nursery school, and every year there were a couple of parent work-days to keep the old building spiffed up. He and I were assigned the job of extending electricity to an add-on room.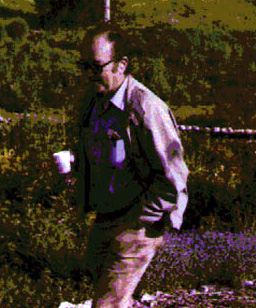 We spent the day bending metal conduit, mounting metal boxes and wiring an overhead light fixture, switches and plugs, in spite of my misgivings about ever asking a journalist to do something in the real world.
The next morning I got a pre-dawn call from Willys, who was checking police and fire beats.
"Uh, Jay, the nursery school burned down last night." Long pause. For about three days we believed we did it, until investigators concluded some kids had broken in and put a grocery bag on an electric burner. Whew.
Betty shared a charming story. When she and Willys first became friends he soon proposed marriage. She declined, saying she would never marry a man who didn't own a house. Time passed, and after several more proposals and turn-downs she received a telegram: "Have house. Will you marry me?" Yes, she replied in another telegram. They had two children, a daughter who followed her mother into teaching and a son who is an artist and poet.
Willys Peck at the Saratoga Community Garden
And that comes back to "Miss Wesson's gift." Not the nickel but a gift of herself to both her pupils and the many teachers she coached — and to the students they taught over the years.
I asked what she thought made her such a special teacher, after she said other students have told her she made a real difference in their lives.
"I felt every student was a special gift to me," she said. That recognition of the individual, the spark of specialness, shined out of her as a young teacher as a brightness, a love of what she was doing and of her students.
In San Mateo County, she met with teachers from kindergarten through third grade. She co-conducted classes to demonstrate technique, but most of all she passed along her beliefs as a gift that continued long after she retired.
She once wrote a poem, "The Kindergarten Teacher's Creed," to encapsulate her gift:
I bring the gift of myself

To this celebration of life

We call the kindergarten.

I come each day

To be refined, smoothed, tempered,

For I hold in my hands,

With wonder and gratitude,

The future!

Seeds of the future are in the oneness

Of all nature and all people

In tune with the divine to be found in our hearts

That I give, through the joy and beauty of love.
So I thought I'd pass along Betty Peck's gift to today's teachers and parents, worth so much more than a nickel, so much more."
Originally published as:
"Guest opinion: Miss Wesson's special gift to generations of kids, teachers and parents"
Palo Alto Weekly. Used by permission, with thanks, courtesy Jay Thorwaldson.