Alan Chadwick's Horoscope
Some people found it difficult to work with Alan Chadwick. He has been characterized as mercurial, volatile, short-tempered, imperious, . . . and these are only the more polite descriptions of his temperament. He once told me, "Patience is not a virtue." By this he meant that molycoddling stupidity only fosters more of the same. He was not afraid of calling a spade a spade, in fact, he felt that that was the most compassionate and helpful response to ineptitude and insensitivity. How cruel, he thought, to leave people believing that their behavior was acceptable when it was actually deplorable. Alan Chadwick was no friend to the "feel good" school of psychology.
While some students thrived under this type of instruction, others suffered. He was definitely not a teacher for everyone, and he knew it. Speaking in 1979 about how potatoes left in the sun can be tolerated by certain people, whereas for others they are toxic, he said:
"And to some people it is a diabolical poison. Here you see this thing of leadership becoming unmanageable. I wish people could understand this in the horoscope connected with us, with what rulerships we're under. Why do you turn your head so sideways? I'm pointing to the fact of the danger of a person such as myself, and I don't want to get personal. But I am under the Sun in Leo, and I am impossible. I mean in adamant drive and strength, I'm impossible, especially to certain other horoscopes. And this must be surveyed, you can't escape it." (From the lecture on Angelica Archangelica, 12 October, 1979, Carmel-in-the-Valley, Virginia.)
Since Alan felt that his birth chart could help to explain some of his more difficult character traits, we reproduce the chart here. We are not astrologers, and therefore are not qualified to comment on its significance. Perhaps someone would like to suggest an interpretation? Note that the place of birth is given here as Plymouth. This is the closest larger town to Alan's actual birthplace at St. Leonard's-on-the-Sea. The difference should be insignificant for the longitude of the horoscope.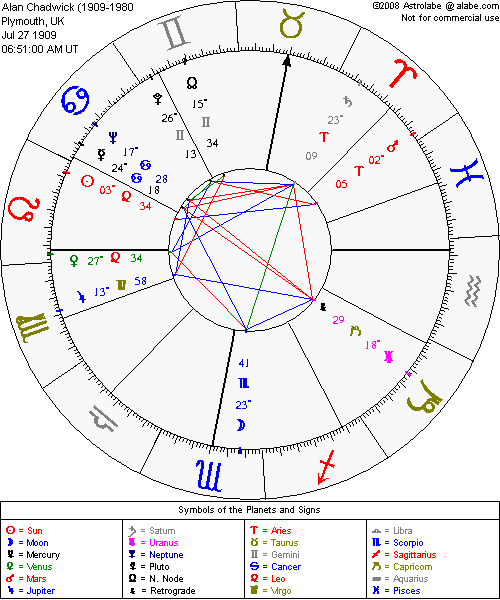 Until some professional astrologer sends us an interpretation for Alan Chadwick's horoscope, we offer the following interim solution:
A $5 Internet Natal Chart Reading
for Alan Chadwick
Jul 27 1909, 6:51 am
Plymouth, United Kingdom


BALANCE OF SIGNS
LEO STRONG
Self-confident, generous, warm-hearted, powerful leader, dramatic. Can be overly proud, vain, extravagant, arrogant.

BALANCE OF ELEMENTS
FIRE STRONG
You are a highly-motivated person with many goals and aspirations for the future. You are vital and spontaneous, often enjoying the challenge of travelling down new and adventurous roads in your life. Your enthusiasm is irrepressible. Your weakness lies in your tendency to exaggerate and your inability to cope with the more mundane activities in life.
AIR WEAK
You lack objectivity - the ability to stand back and view aspects of life from a detached and rational perspective. You have difficulty making decisions and in the process of weighing up the pros and cons in a logical manner.

BALANCE OF HOUSES
1ST STRONG
The First House is about identity. It describes your personality - how you see yourself and how others see you. It can also describe your physical appearance. Other exoteric and esoteric keywords include: the self, ego, anima, projected image, expression of inner motivation, physical appearance, soul purpose, initial approach to life, the aura.
4TH STRONG
The Fourth House is about home and family. It describes your roots, your heritage and your private life. Other exoteric and esoteric keywords include: home life, roots, family and relations, psychological foundations,biological inheritance, place of abode, the ashram, karma.
11TH STRONG
The Eleventh House is about your friendships and relationship with groups of people. It is also about your hopes and dreams. Other exoteric and esoteric keywords include: Friends and social acquaintances, groups and organisations and their activities, the New Group of World Servers.
12TH STRONG
The Twelfth House is about endings. It is about your hidden strengths and weaknesses. It is also about institutions such as hospitals, jails, libraries and the armed services. Other exoteric and esoteric keywords include: Institutions, fears, hidden enemies, the collective unconscious, spirituality, unredeemed karma, selfless service to humanity.
LUNAR PHASE: FIRST QUARTER
Moon from 90 to 135 degrees ahead of the Sun.
You are an action oriented person with managerial capabilities and the ability to get results. You may sometimes push too hard for your ideals.

THE HOUSES
LEO ON 1ST HOUSE CUSP
Life is best viewed as a grand creative project. The image that you project is powerful, warm, sunny and enthusiastic. You are generous, but need to leave others some room to express themselves.
VIRGO ON 2ND HOUSE CUSP
You are particular about your money and possessions. You like to accrue material possessions in an orderly fashion. You value your ability to pay attention to detail.
LIBRA ON 3RD HOUSE CUSP
You are a born networker. You can see many sides of an issue and help bring about a balanced result with your gift for fair talking.
SCORPIO ON 4TH HOUSE CUSP
You have intense feelings about your home and family. You may have experienced intense emotions in your home during your childhood. As a result you may be secretive about your own home life as an adult.
SAGITTARIUS ON 5TH HOUSE CUSP
You enjoy the wide open spaces for your recreation and sports. You are a creative teacher, particularly of children.
CAPRICORN ON 6TH HOUSE CUSP
You are well-organised in your daily routine. You like schedules and time-plans. You may be bossy in your home or office.
AQUARIUS ON 7TH HOUSE CUSP
You like the freedom to be an individual in your relationships. Your close partners will need to allow you much freedom. You may difficulty committing yourself to one person.
PISCES ON 8TH HOUSE CUSP
You are not clear about joint resources suffering from confusion about what is your's and what belongs to the other person. A joint artistic endeavour may be a positive outlet. You may also experience confusion about your sexual feelings.
ARIES ON 9TH HOUSE CUSP
You prefer learning about life through raw experience, rather than in the halls of academia. However, any avenue of higher learning which challenges you will appeal.
TAURUS ON 10TH HOUSE CUSP
You require routine and stability in your career, and will choose a reliable and determined path. You may find that your chosen career reflects literally the earthy side of your nature.
GEMINI ON 11TH HOUSE CUSP
You have many friends from all walks of life. You enjoy talking with friends, both individuals and in groups.
CANCER ON 12TH HOUSE CUSP
You are likely to be strongly influenced by the emotions of those around you, and to have an intuitive streak.

CHART POINTS

THE MOON
THE MOON IN SCORPIO
You have an emotional intensity, and a strong need for drama. Under stress you will create drama and intensity in your life. You may have been born at a time when your mother experienced a crisis, or your birth may have been traumatic. Your mother may have been possessive and intense.
THE MOON IN THE 4TH HOUSE
The Moon is placed in the 4th House of your birth chart suggesting that your place of residence is constantly undergoing change. This can be that you frequently move home, that your house is constantly in a state of renovation or that the members of your household are often coming and going. Whatever the scenario, it's likely that as a result your home doesn't feel secure. As an adult you may learn to adapt positively to the constant changes in your domestic life, or you may feel a constant sense of instability. You've a strong desire to live by the water, and this may provide a sense of deep satisfaction. You could also benefit from working on the land or dealing in property.

ASPECTS OF THE MOON
TRINE MERCURY Orb 0°37' Applying
(This means that the moon is in aspect (Trine in this case) with Mercury, that the orbis of the aspect is 0°37' and that the Moon and Mercury were Applying(getting closer to each other), so the angle between them would decrease over time. The lower the orbis angle – the stronger aspect's effect is) You are able to communicate your thoughts and feelings with ease. You may be a charming person, at times manipulative. You have a talent for making decisions based on both your heart and mind.
SQUARE VENUS Orb 3°52' Applying
You have conflicting emotional desires and needs which complicate your personal life. You may feel that you cannot depend on your love partner to take care of you or perhaps you cannot decide what you really want in a love relationship: a parent or a lover. If your needs for emotional sustenance and love are not satisfied, overeating (especially sweets) can be a problem for you.
QUINCUNX SATURN Orb 0°32' Separating
You are cautious about trying new things, and need to take a few risks.
TRINE NEPTUNE Orb 6°13' Separating
You are a highly intuitive person with a gentle manner. You have an unusual level of sensitivity to other people's feelings. You need to make sure that you do not idealise other people. You have creative and artistic talents.
QUINCUNX PLUTO Orb 2°32' Applying
You can become obsessive and lose your objectivity. You need to slow down and broaden your horizons.
SQUARE CHIRON Orb 3°06' Applying
You are a suffering and wounded person. You feel that you are misunderstood, particularly by your own mother. Once you have learnt to rise above your pain, you will have the ability to understand and help others.
SQUARE THE ASCENDANT Orb 2°46' Separating
Your emotions are a prominent part of your personality. You are sensitive and intuitive, if somewhat reactive at times. You are likely to find that others respond readily to your emotional nature if you can remain calm and assertive. You learn much about yourself through your feelings.
OPPOSITION THE MIDHEAVEN Orb 8°19' Applying
Most people are influenced by their home and family. However, you are particularly sensitive to the ebb and flow of family life. As a young child you enjoy spending time in your home, relating to those who share your household as well as extended family members. If you grow up in a warm and supportive family environment then you are likely to enjoy an equally happy household as an adult. If you suffer at the hands of your family then your journey may be rockier. At some stage you are likely to break away, determined to create a sense of security in your own home. You may start a family of your own with the view of developing a warm and safe household. Safety and security at home are vital factors for your health and happiness. You need a safe haven. Your home does not necessarily need to be a large mansion, but you do need to feel comfortable. You are likely to be a force to be reckoned with in your family life. Other family members may come and go, but you are the one likely to be a guiding hand and a comfort for family members. You may be the keeper of family memories with photographic displays, books, and stories to tell. The family history fascinates you, perhaps even compelling you to research and record facts and stories.

THE SUN
THE SUN IN LEO
Your Sun is in the zodiac sign of Leo indicating that you're good-hearted, and have a sunny personality which shines in the company of others. In fact you love an audience, basking in the attention which comes with being centre stage. Most of the time you do manage to attract the attention that you so keenly seek, as your enthusiasm and sense of fun has a contagious effect lighting a spark of fun and joy in those around you. Your generous nature also means that you're willing to share your abundant goodwill with others. You may also find yourself surrounded by children ready to join your playful games, for you're adept at bringing out the child in everyone.. Astrologically the Sun is said to be in its own Rulership in the sign of Leo, emphasising the positive sunny aspects of this placement.
THE SUN IN THE 12TH HOUSE
Your Sun is in the 12th House of your birth chart meaning that much of your life is spent working behind the scenes. This could mean taking a back seat in your job as the secretary rather than the boss, the stage manager rather than the actor or the editor rather than the published author. On the other hand you may work in the relative anonymity of a large institution such as a hospital or the armed services. Although you've the ability to succeed in your life, it is likely to involve some form of self-sacrifice. You've the ability to overcome any difficulties entirely through your own efforts, although you can benefit from other people's charity at great times of need. It's likely that you've missed out on an opportunity to have a close relationship with your father. Although you may find it difficult, moments of quiet reflection will ultimately prove to have a healing effect on any emotional pain. You may even discover a sense of being deeply connected with the psychic world.

ASPECTS OF THE SUN
CONJUNCTION MERCURY Orb 9°15' Applying
You are an effective communicator. You enjoy intellectual stimulation, and look for avenues through which to communicate your ideas. You tend to talk forcefully about yourself and your interests but are less interested in listening to others.

TRINE MARS Orb 1°28' Separating
You have the ability to express yourself with confidence and plenty of energy to achieve your goals. You may find that you enjoy leadership roles. Certainly you will want positive outlets for your enterprising nature.

MERCURY
MERCURY IN CANCER
You place importance on communication within the family. Information about your family and its background is also important to you. For instance you may like to collect family photos or study family history. You look after yourself and others by communicating emotional issues.
MERCURY IN THE 11TH HOUSE
Communication with your friends will be important to you. You will want to share your thoughts and ideas with friends. You may also like to study with groups, or to join a group with common beliefs.

ASPECTS OF MERCURY
SQUARE SATURN Orb 1°09' Separating
You become stuck on certain ideas and find it difficult to change your mind.
OPPOSITION URANUS Orb 5°49' Separating
You have a tendency to thrust your own original thoughts and ideas onto other people. You wilfully defend your right to have different views and can fail to appreciate other people's points of view. You need to learn to respect all forms of communication and thinking.
CONJUNCTION NEPTUNE Orb 6°50' Separating
You have an imaginative mind, although at times you speak in a vague fashion. You are sensitive to the thoughts and ideas of other people. You are creative.
QUINCUNX CHIRON Orb 2°28' Applying
You are too busy looking after other people to have time for yourself. You need to learn how to care for your own needs.

VENUS

VENUS IN LEO
Warmhearted and generous in love, you cannot tolerate pettiness or stinginess in your partner. You want a Hero, a Prince or Princess to idolize and adore, someone you wholeheartedly admire and can be proud of. You are tremendously loyal and devoted once you give your heart to someone. You crave love, appreciation, and attention from others and hate to be ignored. You are rather susceptible to flattery and love to feel SPECIAL. You enjoy some drama and color in your love life and grand romantic gestures or an extravagant expression of generosity impresses you.

VENUS IN THE 1ST HOUSE
You are very much aware of your personal appearance, attractiveness, and charm, and you can be rather narcissistic. On the other hand, you are concerned with getting along with others and you have a pleasing, agreeable manner that people find quite appealing. You use tact or charm to get what you want rather than intense effort or force. Your desire for love and affection colors everything you do.

ASPECTS OF VENUS
TRINE SATURN Orb 4°25' Separating
Loyalty, fidelity, and security are very important to you in love. You are cautious about giving your heart away but true to the one who does win your love. Your tastes are simple, even austere, and you do not appreciate frivolity. You are interested in a person's character and inner qualities far more than their appearance. Casual or superficial relationships don't interest you at all, for love seems to get deeper and richer and more satisfying for you with time.
SEXTILE PLUTO Orb 1°20' Separating
You love deeply, passionately, and wholeheartedly, and others may find your intensity either extremely attractive or threatening. You are charismatic and can have a powerful emotional influence on others, especially those of the opposite sex. You may use your attractiveness to manipulate others, sometimes without even realizing it.
OPPOSITION CHIRON Orb 0°46' Separating
You tend to suffer emotional pain in your personal relationships. You are so busy caring for your loved ones that you neglect your own needs. This imbalance can lead to you resenting your partners . You also tend to become the peacemaker as you are so sensitive to disharmony. You need to learn to nurture yourself and trust your own wisdom.
CONJUNCTION THE ASCENDANT Orb 1°06' Applying
You are a warm and attractive person, with an urge to be involved in relationships. Other people will be attracted by your charm. Art and creativity may also play an important role in your life.

MARS
MARS IN ARIES
You have a warrior's attitude - decisive, courageous, and bold. You tend to always want to DO something, even when waiting for an appropriate time or not doing something (simply letting things alone to resolve themselves) would actually be more efficient and effective. You absolutely cannot tolerate being passive or even patient about getting what you want. You feel that it is up to you to take the initiative and you go after your goal or desire very aggressively. You are also self-reliant, do not depend on others to do things for you or help you along, and you are often irritated when other people offer advice or direction. Cooperation rarely comes easily to you. You are willful and can be quite oblivious to others' desires or feelings when you are pursuing something you want. You are highly competitive, enjoy a challenge or a good fight, and may be downright pugnacious at times. Abounding in energy and enthusiasm at the start of a new venture, you need a very positive response and encouragement to sustain your interest in it. If a project isn't successful rather quickly, you are apt to drop it and move on to something else, rather than rework or refine it. The desire to blaze a trail, to do things in a new way - YOUR way - is very strong in you. You can discover, invent, and initiate new things, but are impatient and may lack the stamina and perseverance needed to complete a long-term project.
MARS IN THE 8TH HOUSE
You meet numerous challenges and possibly defeats in pursuit of your goals and desires, and your setbacks often occur because you've been too rash or intent on working your own will regardless of the impact on others. You are intense and passionate, and simply don't know when to stop sometimes! Recklessness with others can be a problem for you.

JUPITER

JUPITER IN VIRGO
Your ability to think things through clearly, and to analyze and understand the smallest details of any plan, is highly developed. You have a modest nature and are more concerned with the success of your project or work than with personal aggrandizement. You enjoy working and are happiest when you are being productive and using your time efficiently.
JUPITER IN THE 1ST HOUSE
You have an optimistic outlook on life and to others you appear jovial, confident, and expansive. You do what you can to be encouraging and helpful to other people, and your generosity and lack of pettiness makes you very well-liked. Because you see yourself as a lucky person, you may feel that you can "get away with anything", without negative consequences. You tend to go to excess and have little sense of moderation (or even caution, at times).

ASPECTS OF JUPITER
TRINE URANUS Orb 4°31' Applying
You have an enormous ability and energy to achieve your goals. You set out to make changes in society and can do much. You avoid restriction and may live an unconventional life, breaking new ground in ways of living.

SATURN

SATURN IN ARIES
You have difficulty asserting your will and desires directly and openly. You also may suppress your anger and aggressiveness. Developing self-confidence, courage, and faith in yourself are important tasks for you.
SATURN IN THE 9TH HOUSE
Your attitude toward religion, philosophy, and politics is very conservative and possibly narrow or rigid. On the one hand, you may believe in nothing that is speculative or intangible, requiring proof for any idea presented to you. Each idea is thoroughly and systematically examined. On the other hand, you may tenaciously cling to your grand philosophical or metaphysical beliefs and opinions, refusing to modify them or to be open and receptive to others' insights and perspectives. Your overall outlook on life is serious, and you may feel that life or some greater force will punish you if you do not watch your step!

ASPECTS OF SATURN
SQUARE URANUS Orb 4°39' Separating
You become tense and upset rather easily. You become irritated by the unwillingness of others to make changes. Very serious about bringing your inspirations into concrete form, you are inclined to forego tact and diplomacy in order to accomplish your goals. Your occasional outbreaks of brusque, insensitive behavior often do more harm than good.
SQUARE NEPTUNE Orb 5°41' Applying
You lack confidence in your artistic ability or in your relationships. Learn to believe in yourself and avoid being drawn into the psychic realms as you still have to learn how to deal with the practical side of life.

URANUS

URANUS IN CAPRICORN
It is important to note that Uranus spends a long time in each sign, and therefore the interpretation applies to a generation rather than the individual. For a more individual interpretation look at the house position below. This generation will introduce new structures, possibly governmental or business structures. It indicates a time of consolidation of original ideas and a practical building of new ways.
URANUS IN THE 5TH HOUSE
You are uninhibited and have an outrageous, crazy sense of humor. You love to get loose and you're often impulsive or "wild". Even if you appear conventional, you are attracted to highly eccentric, creative, or unusual companions. In romance, you are happiest when there is an element of surprise, unpredictability, and adventure. You may choose unstable love partners.

ASPECTS OF URANUS
OPPOSITION NEPTUNE Orb 1°01' Applying
Those born in your generation can be highly inspired, but also confused or upset by anything irrational or paranormal. The old no longer suffices and the new is compelling but certainly not easy to integrate. Your age group has a great fascination with new techniques and innovations which seem almost miraculous.
TRINE THE MIDHEAVEN Orb 3°07' Applying
You want the freedom to express your own unique ideas in your public life, as you want to make a contribution to society. You enjoy change and variety, and may make sudden career changes. Science, innovation and technology may feature in your career.

NEPTUNE

NEPTUNE IN CANCER
Neptune takes about 164 years to make a complete cycle, spending about thirteen years in each sign. Therefore the interpretation of Neptune in the Sign also applies to a generation rather than the individual. This generation has potential psychic abilities. They hold their spiritual beliefs close to their hearts with a certain amount of emotional attachment.

NEPTUNE IN THE 11TH HOUSE
You are idealistic in your social and political outlook, and your ideals may impel you to join clubs, organizations, communities of like-minded people, or groups that share your vision and your concerns.

PLUTO

PLUTO IN GEMINI
Pluto takes about 248 years to make a complete cycle, spending 12 to 32 years in each sign, so this interpretation also applies to a generation rather than the individual. This is the generation of transformative inventions, and major breakthroughs in knowledge. People born in this generation were subject to new discoveries with worldwide ramifications.
PLUTO IN THE 11TH HOUSE
You may have a deep aversion to groups, associations, clubs, or organizations of any kind. Any such group you become involved in is likely to be either for intense personal growth, change, and healing, or centered around social change and revising society in some manner.
ASPECTS OF PLUTO
TRINE CHIRON Orb 0°33' Applying
You have a gift for helping other people overcome their troubles. You understand the darker side of life and are not afraid to face adversity either for your own ultimate benefit, or in order to help other people. You may also be a gifted healer.

CHIRON

CHIRON IN AQUARIUS
You may feel insecure within groups. You may also be sensitive to the wounds of humanity. It may be that you have suffered through friendships. You will have the ability to join groups with a cause, particularly those that heal humanity or teach spiritual ideals.

CHIRON IN THE 7TH HOUSE
You suffer from broken and painful relationships, and feelings of rejection by your partner. You may later have a partner who teaches you to overcome this, or you may teach you partner.

THE NORTH NODE

THE NORTH NODE IN GEMINI
This is a quest to learn to see life from other people's point of view and to become adept in the art of communication. You have a tendency to be restless and scattered. You need to develop focus and the ability to communicate your ideas in a way that helps the many people in your life.

THE NORTH NODE IN THE 10TH HOUSE
This is a quest for dignity in the eyes of the world. You need to repay your past life karma with understanding and compassion after which maturity will follow.

THE ASCENDANT

THE ASCENDANT IN LEO
The sign of Leo is considered to be "masculine" by Ancient astrologers suggesting that you're more likely to actively seek your purpose in life, taking the initiative rather than waiting until circumstances are comfortable. Leo is also a fixed sign denoting fixity of purpose, resolution, self reliance and independence. You're sincere, generous and ambitious, enjoying a sense of autonomy in all that you do. You're adept at organising your own life, and enjoy the independence. Generally speaking you're assured of your own purpose, and your life is full and eventful. However, there are times when your passion and haste lead to downfalls, and you also have to be wary of the dictum "pride before a fall". Fortunately you're usually back on track quickly thanks to your vital and sunny nature.


Return to the top of this page