Memories of Alan Chadwick by Gregory Hudson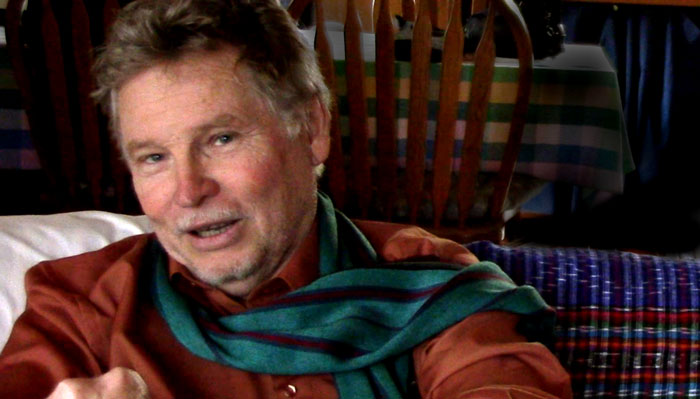 Gregory Hudson speaks in March of 2014 about his experiences working with Alan Chadwick in Santa Cruz, Saratoga, and Covelo.
In the later part of his junior year of college in 1969, Gregory Hudson transfered to the University of California at Santa Cruz . In May of that year he first found his way into the garden project and subsequently worked there all summer long. When classes started again in the fall Greg had to refocus his efforts back onto his academic work, but after graduating he returned to the garden. Soon after, Chadwick asked him to join the staff and become one of the assistant gardeners.
Having little patience for the turmoil that plagued the project during the latter part of 1971, Greg moved on to persue other interests but then returned to the fold sometime in the spring of 1973 when the focus was on initiating the gardens at Saratoga. Then, in the early summer of that year, Alan Chadwick made the decision to relocate from Saratoga to Covelo. Greg drove the old white Rambler Station Wagon that we affectionaltely called "This Too Can Be Yours" up to Covelo with all of Chadwick's belongings and a car full of apprentices.
At the beginning of that project everyone had to camp out in the northwest corner of the valley, but later Richard Wilson made his house at Buck Mountain available to Alan's apprentices. It was a grueling, grinding, slog to begin that garden in the fierce heat of the Round Valley summer. Those early apprentices pushed themselves to their limits and were often physically exhausted and mentally dispirited. Alan kept everybody going by the shear force of his own example. He was always the first one to begin work in the morning and the last to call it a day after it became too dark to see in the evening.
At one point during this period, Alan Chadwick suggested to Greg that he would make a good teacher and that he might want to consider that as a profession. This casual remark had important consequences for him because sometime soon after that Greg made the decision to train as a teacher and he subsequently spent most of his adult life working as a Waldorf teacher.
In March of 2014 Greg Hudson spoke with us about his experiences working with Alan Chadwick.
Here Greg retells an anecdote that involved Alan Chadwick in the garden at Santa Cruz. An aggressive rooster would invariably attack the apprentices when they entered the chicken yard to feed the animals or collect eggs. Most of us had figured out how to deal with him, but occasionally he would scare or even hurt somebody. On one occasion, Alan himself had to do the chicken duty and so he found out first-hand what the poor apprentices had been dealing with for quite some time already. Alan comes up with a quick and effective solution to the problem. (6:07)
The anecdote that Greg relates here took place at Covelo. It was near the end of the first year there, when labor was short and the amount of work to be done was enormous. Chadwick was in a bit of a temper owing to these and other factors, so when he set out to build a burn-pile to produce wood ash for the garden he was perhaps not as focused as he usually was. The result was an embarassing bit of damage to one of the important tools in the garden. Greg himself could possibly have prevented the damage, but he was curious to see what Alan's reaction would be to these events. (3:43)
Alan asks Gregory Hudson to construct a gate on the path leading from the Chalet area down to the main garden at Santa Cruz. Greg develops a concept and then executes it with care and love. When Alan praises his work, Greg takes satisfaction in a job well done. (5:04)
Nature responds to the consciousness of human beings. When man is unconscious and asleep to the subtle beings and forces of nature, then nature meets him in a similar manner. But when the human being meets nature with an awake consciousness, then nature responds in a way that conveys all of its potential vitality and exhuberance. This could explain some of the magic that Chadwick was able to draw forth from nature and manifest in the garden. Verbosity cuts us off from true reality. (4:16)
Alan's disillusion as a result of having been expelled from Santa Cruz. The gardens at Santa Cruz were magic beyond anything that Alan created subsequently. Covelo was impressive, but Santa Cruz was the finest garden that Greg experienced. Alan's attitude toward women. A story about Alan's attraction for a beautiful woman who visited him at Covelo. Alan Chadwick's final words to his apprentices. (5:05)
Return to the top of this page