Memories of Alan Chadwick by Nancy Lingemann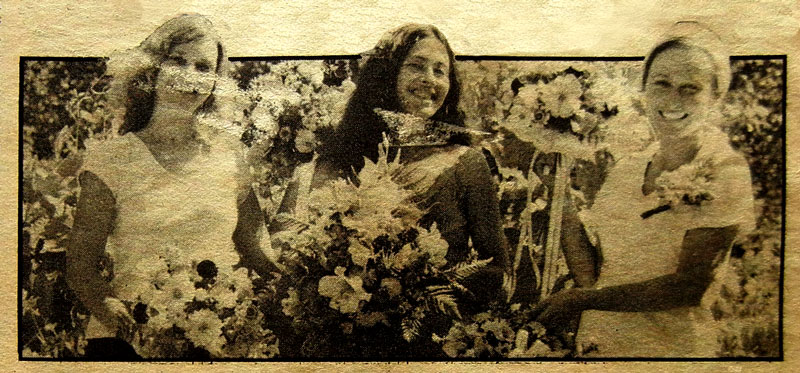 Flower Ladies Ruth Ann Birkman (left), Marcia Lipsenthal (center) and Nancy Lingemann (right) at Santa Cruz in 1979. Photo used by permission courtesy of the Santa Cruz Sentinel.
Nancy Lingemann has the distinction of having met Alan Chadwick on the first day that he arrived at UC Santa Cruz in 1967. While working in the cafeteria of Cowell College she saw Alan come through the line. His appearance made such an impression that Nancy made a mental note to find out who he was and to get to know him. It so happened that Paul Lee took her aside as soon as her work shift was over, saying that there was someone he wanted her to meet. That person turned out to be Alan.
The conversation among the three of them eventually began to focus on the art of dance since Nancy was working as a dance instructor and Alan had also studied the art. At one point Paul had to leave, but Alan and Nancy continued talking for hours afterward.
On another day, Alan invited Nancy to come up to see the garden that was beginning to take shape on the hillside below Merrill College. She began to be a regular visitor during that initial time when Alan Chadwick, John Powell and Michael Stusser were the principal workers on the project. Shortly thereafter, Nancy became enamored with the art of horticulture as Alan taught it, and was soon spending all her free time working up there during that first year.
After her marriage to John Lingemann and the birth of her first child, Nancy was unable to devote much time to the garden at UCSC, but her close friendship with Alan continued throughout the entire time that he worked in Santa Cruz. Nancy had her own cow, and every week she would bring a jar of homemade butter as a gift to Alan in exchange for his help answering the questions that she had about her own homestead garden and about the cut-flower business that she had formed with two friends (called The Flower Ladies). It would be no exaggeration to say that Nancy was one of Alan's closest and most enduring friends while he lived in America. Faithful to the end, she sent a bouquet of her best flowers down to Green Gulch every week during the time that Alan was dying there.
In March of 2014, Nancy was interviewed by Greg Haynes at her home in Bonny Doon, California. In these video clips she talks about her experiences working with Alan Chadwick and about what he meant to her as a mentor and friend.
The circuitous path that led Nancy to the University and how she managed to gain admittance. Meeting Alan Chadwick on the first day of his arrival at UC Santa Cruz. Her introduction to horticulture through Alan's captivating manner of teaching. Working in the greenhouse growing flowers and vegetables. How this led her to her life's path. Nancy's wedding and the beginning her own garden in Bonny Doon. Continuing her work at the project at UCSC and how Alan supported her in her chosen work. Alan attends a Thanksgiving celebration at the home of John and Nancy Lingemann, and what he brought as a contribution to the dinner. (9:52)
Visiting Alan at his house and seeing his paintings. Alan's advice about the best roses to grow. Nancy's own garden begins to take shape. The birth of her first child and showing him to Alan on his second day of life. Nancy gets a cow and makes butter for a weekly gift to Alan. Early walks with Alan on the site for the new farm project at the university. Chadwick helps Nancy with the questions she has about her own farm. Examples of Alan's generosity. His kindness toward her that never faltered. Excursions with Alan in Santa Cruz. A visit to Covelo near the end of that project. How Alan treated women at the garden project in Santa Cruz. How Nancy continues to grow flowers every year since her first introduction to them from Alan. (10:07)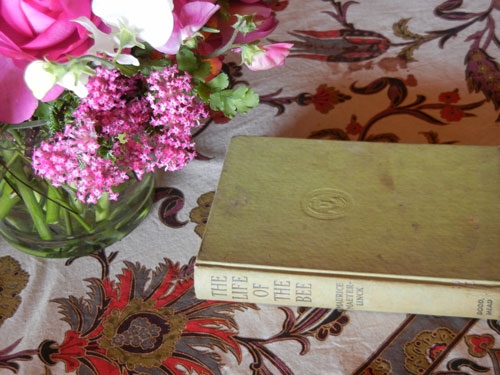 Alan's treatment of men and women who worked in the garden. Gifts he made. His special technique of oil painting. The end of Alan's work at Santa Cruz and how his firing from the university affected him. A visit by Robert Rodale and Wendell Berry, but difficulties kept Alan away from the event. Chadwick's design for the farm project. The beginning of Nancy's flower business: "The Flower Ladies." Her partners, and how they began to supply flowers for weddings. (9:33)
The flower business continues to this day. What makes their unique approach special? How they still respect the techniques and aesthetics that Alan taught. Alan's legacy continues to this day. Chadwick as a catalyst for personal change. His mission to awaken his students to the mysteries of nature. His passion. How Nancy sent flowers to Alan at Green Gulch in the time before his death. A letter of appreciation to Alan. A visit to a healer. Alan's suffering. His unique visionary powers. (10:27)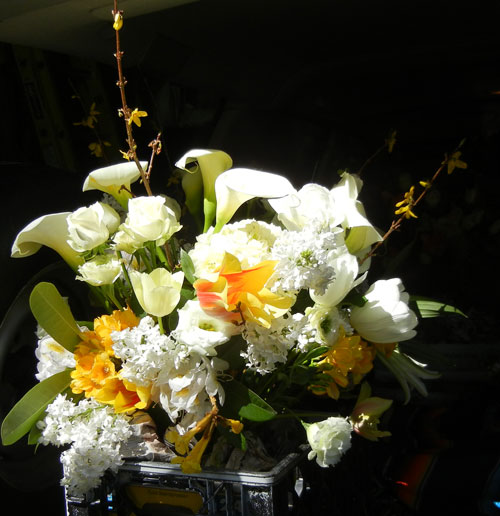 The need to pass on Alan's teachings. How his influence has spread to remote corners of the world. Alan was emotionally devastated when he was forced out of the university. The unique character of the UC Santa Cruz garden project. Alan's lectures at Saratoga. A visit to the Covelo garden. Some other Chadwick apprentices. Appreciation for Dennis Tamura. Alan's gift of roses for Nancy led to her passion for growing them. Alan's sensitivity to nature. He shared the characteristics of a Zen master. His early friendship with Krishnamurti. The profound effect of working with Alan on his students. His ability to perceive unseen forces and make them manifest. (8:59)
Flowers from the Garden of Nancy Lingemann
Return to the top of this page